BIOGRAPHY
Conor McGregor is a multi-weight UFC champion, entrepreneur, restaurateur, global business and athletic icon, and soon-to-be movie star. Hailing from Crumlin, Dublin, McGregor was a plumber's apprentice and amateur fighter before bursting onto the UFC scene in 2013. He quickly rose up the ranks, winning the UFC Featherweight Championship in 2015. McGregor then made history by becoming the first fighter in UFC history to be champion in two weight divisions simultaneously, winning the UFC Lightweight Championship in 2016. McGregor is the largest draw in UFC history, headlining the top six most-bought pay-per-view events for the company. He is the most-followed UFC fighter on social media with more than 70 million followers across all platforms, and has set the record for the most career earnings by a UFC athlete.
Outside the Octagon, McGregor has found similar success. He co-founded Proper No. Twelve Irish Whiskey in 2018, which has become the fastest-growing whiskey brand on the market. In addition to Proper No. Twelve, McGregor has invested in a stable of business ventures including: TIDL Recovery Spray, The Black Forge Inn in Dublin, the Dystopia: Conquest of Heroes video game series, McGregor Fast fitness, and Forged Irish Stout, among others. This diversified portfolio helped place McGregor at number 1 on the 2021 Forbes "Highest-Paid Athletes" list.
McGregor, at 34 years old, splits his time between his home in Dublin, the United States, and the Mediterranean. He lives with his fiancée and high school sweetheart, Dee, and their three children – Conor Jr., Croia, and Rian.
McGregor's first foray into movies, as the co-star of the iconic Roadhouse reboot, is coming soon.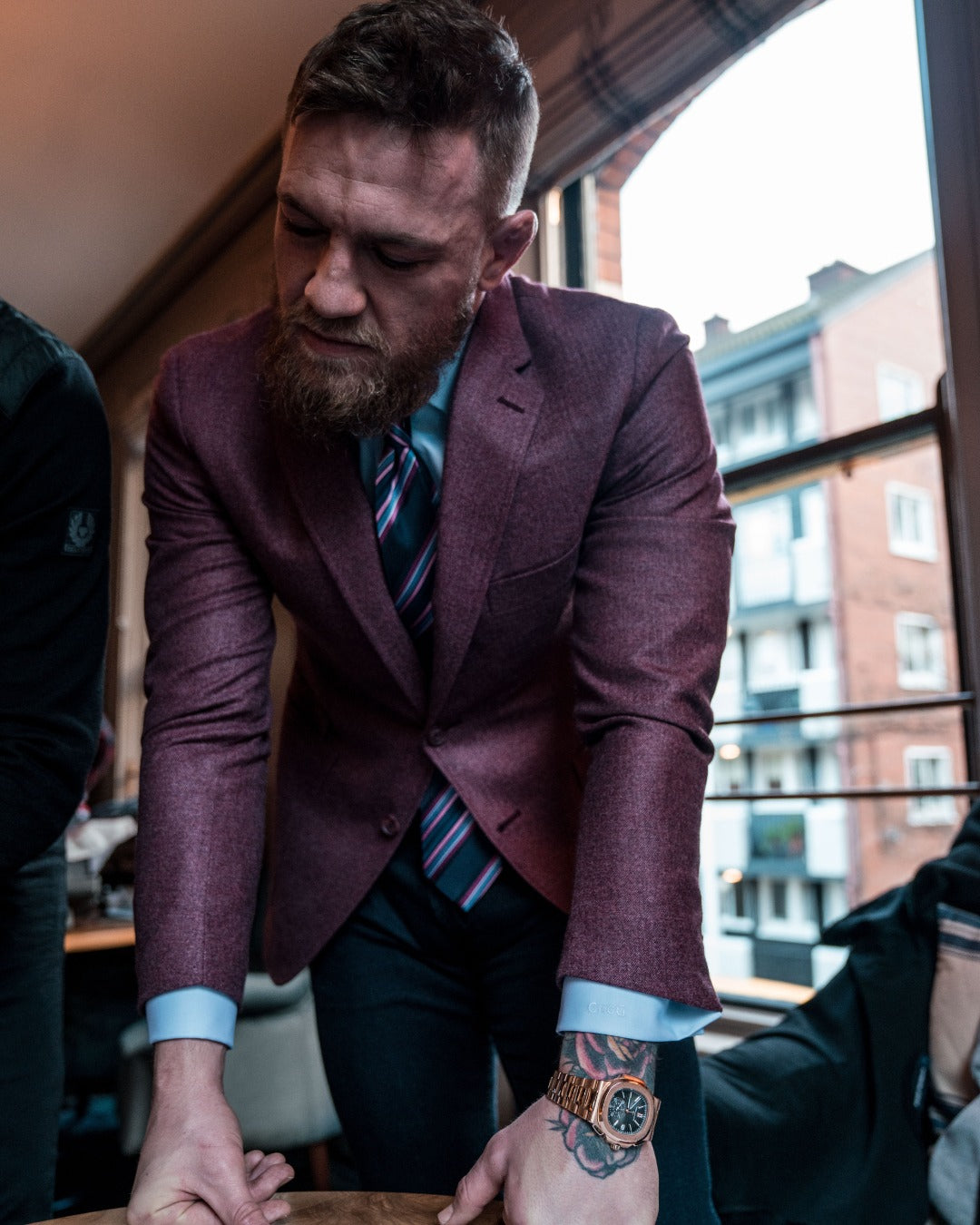 ABOUT
Name: Conor McGregor
Fightname: The Notorious
Age: 34
Height: 5′ 9″
Weight: 170lbs
Record: 22-4-0
Promotion: UFC
Divisions: 145, 155, 170
Nationality: Irish
Gym: SBG Ireland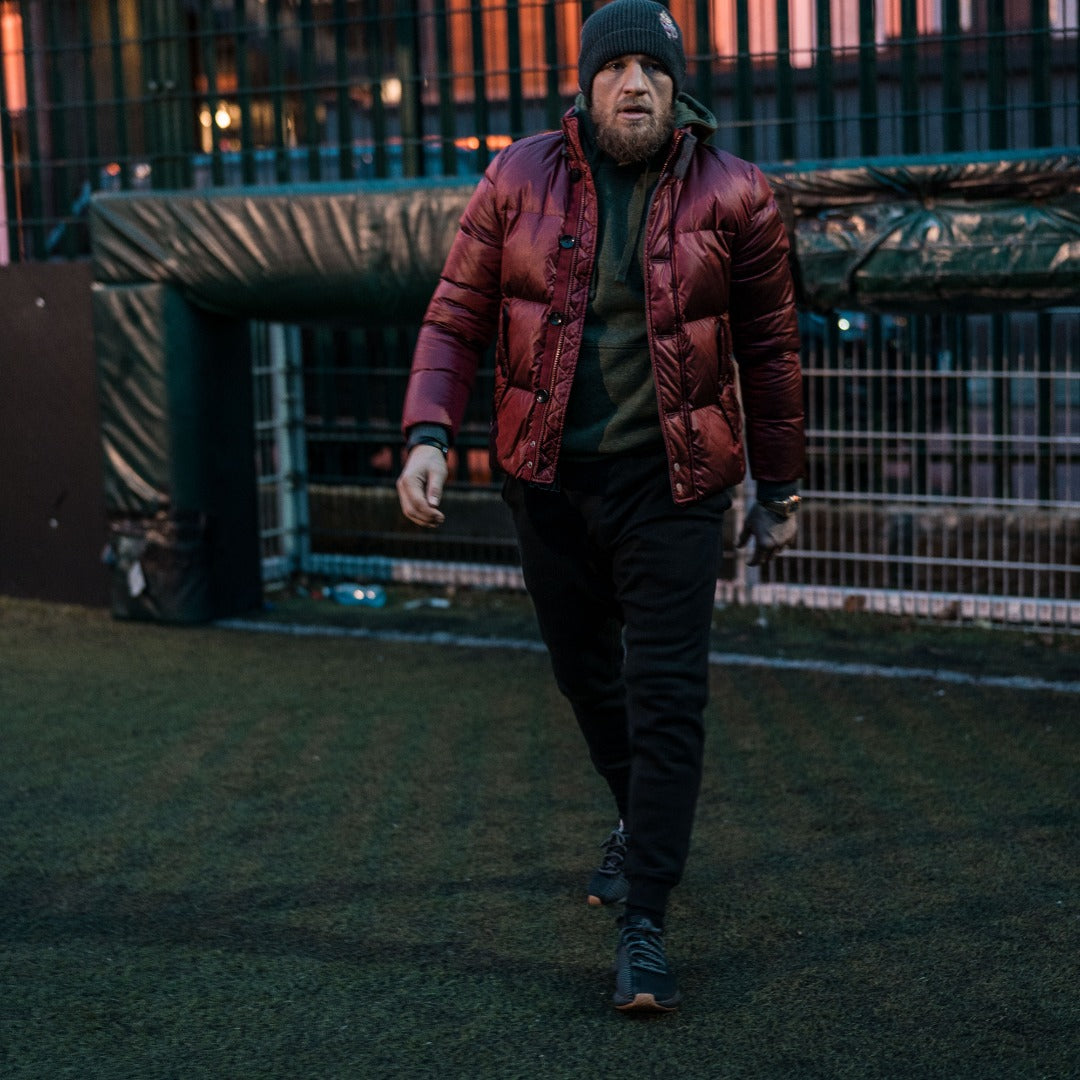 ACCOMPLISHMENTS
• Captured the UFC Lightweight & Featherweight Championships
• Wins by KO/TKO in three different divisions (Featherweight, Lightweight & Welterweight)
• First UFC Champion to hold 2 belts simultaneously (Featherweight and Lightweight)
• 24 wins by KO/TKO, one by submission
• Main Event of UFC's highest Pay-Per-View buys (UFC 202, 1,650,000 PPV buys)
• Second highest grossing boxing bout in history (Floyd Mayweather-Conor McGregor, 4.3M PPV buys)
• 100 Most Influential People (Times Magazine Cover, April 2017)
• Pro since 2008
• 13 first round finishes
• Amateur record: 1-0
• Joint quickest KO at 4 seconds
• Held both the Cage Warriors 155lbs and 145lbs titles simultaneously.
• Forbes No. 1 Highest-Earning Athlete.
UFC Questionnaire
1. Training?
Food, Afternoon session, Food, Evening session, Food, Sleep, Repeat.
2. When and why did you start training for fighting?
When I was a kid, to be able to defend myself in an unarmed combat situation.
3. Do you have any heroes?
None, but I take inspiration from everyone and everything. I'm inspired by current champions, former champions, true competitors, people dedicated to their dream, hard workers, dreamers, believers, achievers.
4. What does it mean for you to fight in the UFC?
It is a lifelong dream to compete here. It truly shows me the power of visualization and the power of an unshakeable belief. It is just the beginning.
5. Did you go to college and if so what degree did you earn?
None. I have a masters in unarmed combat.
6. What was your job before you started fighting?
Plumber for 1 year, quit and pursued the combat dream ever since.
7. Specific accomplishments in amateur competition?
National Boxing Champion
8. Favorite grappling technique?
Rear Naked Choke
9. Favorite Striking technique?
Knee